Featured Stops with Hana Tours of Maui:

Keanae Peninsula
A well preserved favorite for many of Hana Highways travellers, features a church built in 1860, taro fields, and a volcanic coastline that makes for some of the best photo opportunities available.
Waianapanapa State Park
Sacred to the Hawaiians and a visitor's paradise, Waianapanapa State Park features a volcanic black sand beach, Honokalani. Walk along the jet black shore, lined with wind twisted foliage, take in the exciting site of a lava cave. Swim time and facilities are available at this location.
Waterfalls throughout Maui's Rainforest
Countless waterfalls can be seen along Hana Highway. Swim time available for you to enjoy a freshwater pool on the Haleakala volcano. Break away from the resort and enjoy the original swimming pool crafted by a waterfall, volcanic stone and incredible views.

Heavenly Hana Town
Hana town awaits as one of our destinations where you will encounter a step into the not so distant past, where life can move a little slower and with good reason. The local custom is to greet aloha with aloha, and with this important exchange, we enjoy a rich quality of life!
Beyond Hana, Haleakala's windswept southern slopes
The breathtaking costal views of the Maui's south side is an experience not to be missed. See other Hawaiian islands in the distance and soak up the magnificent costal beauty of undeveloped areas of Maui.
General overview of your full circle tour around the Haleakala Volcano:
7-8:20am Pick up service across Maui. Pick up time based on your location in west, south or central Maui, including Kahului Harbor, for cruise ships.


8:30am Complete breakfast served along Maui's north shore overlooking the West Maui Mountains
Head out along historic Hana highway, around Maui's eastern volcano, Haleakala.
Kaenae Peninsula. Take in the rugged shore, with its' crashing waves and historic Church circa 1860.
Enjoy countless waterfalls as you drive through Maui's lush rainforest. Swim time available in a freshwater pool by a waterfall.*
Waianapanapa State Park. Swim* at a black sand beach. Facilities available.

Full Lunch

served in Hana.
Browse Hana Town with it's historic pier and heavenly views.
Leave Hana and continue around Haleakala, see the 7 sacred pools as you drive over the Oheo bridge
Time permitting, see the tranquil resting place of famous aviator Charles Lindbergh
Windswept slopes of Haleakala and "Maui's Grand Canyon"
Around 6pm, we aim to have you back at your hotel, condo, or cruise ship. Time may change due to traffic or weather.
*Swim at your own discretion, although you will have a professional guide, there will be no lifeguard on duty.
BOOK NOW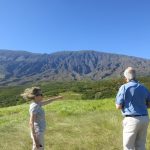 Book with confidence. Our ecotours are an incredible experience and we take pride in providing an exceptional tour around Maui. Book today to reserve your seat and if you need to cancel your reservation with more than 72 hours notice, you'll receive a full refund. Cancellations due to medical emergencies or by Hana Tours of Maui will result in a full refund as well. Reserve your seat today and enjoy a tour with all the details covered.