Aloha & Welcome to Hana Tours of Maui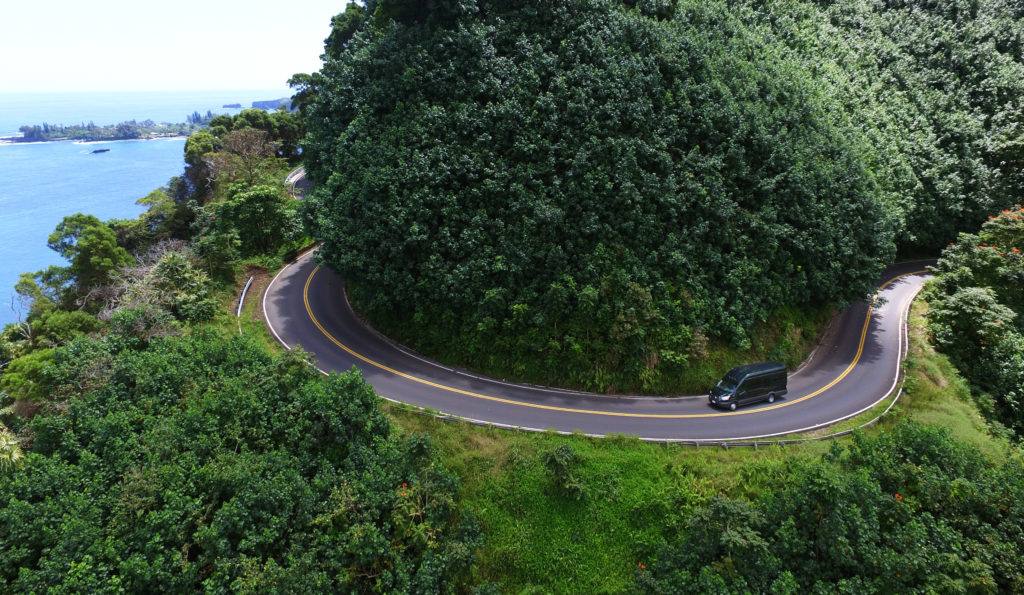 Bring your Ohana (family and friends) and enjoy one of our world's most scenic & captivating roads. Our Ohana will take you around Maui's eastern volcano to see breathtaking ocean and mountain views. Hana Highway features over 600 coastal turns and nearly 60 bridges, most are only one lane. 
Let our experienced guides take the wheel, while you enjoy a relaxing tropical tour along this historic road and around the Haleakala volcano. Take our ecotour along coastal Hana highway and into the lush rainforest of Maui's eastern volcano, Haleakala. Riding the road to Hana is not your typical highway experience. Know before you go!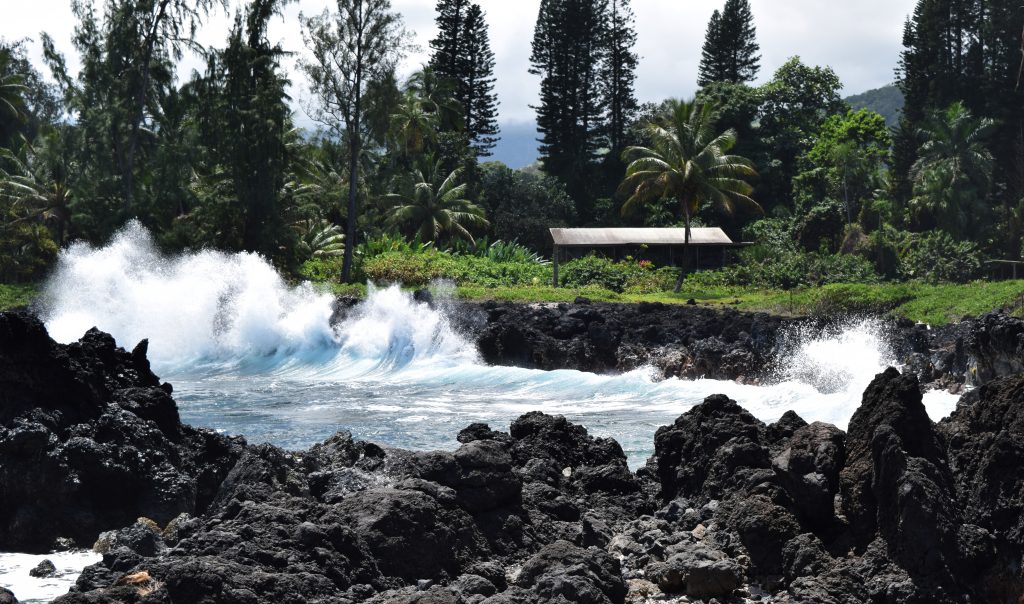 Deluxe Hana Tour, Road to Hana tour around the Haleakala Volcano:
Enjoy the care-free feeling of having the details covered. Travel in comfort with our tour, as we provide a relaxing adventure. We aim to drive the north and southern route for the deluxe tour but access to the southern route is not guaranteed but either way, you'll enjoy a full tour experience. 
Door to door service across most of south, west, and central Maui.

Drive through Paia Town and see north shore surf 

Kea'nae Peninsula 

Stop for fresh banana bread – remember to bring spending money (cash).

See Upper Waikani Falls (3 Bears Waterfall)

Tour along coastal and historic Hana highway through a lush Hawaiian rainforest of Maui's eastern volcano, Haleakala. 

Stop for a chance to buy some fresh banana bread and other local treats.

Enjoy a waterfall stop in the rainforest, an opportunity to swim* 

Wai'anapanapa State Park. Enjoy walking around and experiencing a volcanic black sand beach in Hana. Swim time available*

Full lunch 

Relax, taking in countless waterfalls as your driver expertly navigates the hundreds of curves and nearly 60 one lane bridges along this unforgettable journey.

Tour's done around 5pm
For more details, give us a call or check out our page Where We Go.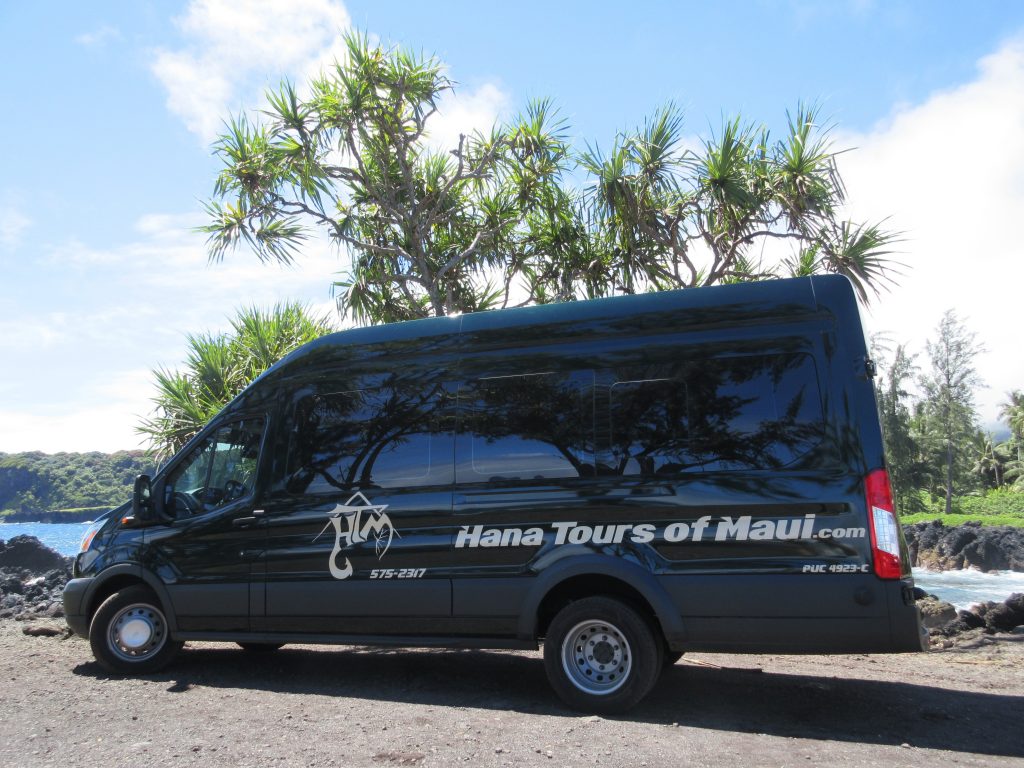 For your Hana tour, enjoy:
Highly qualified, knowledgeable, professional, and thoughtful guides.

Custom comfort vans seat up to 14 guests. Windows are over-sized with tinting and UV protection.

Room to stand as you walk though the van. Vans are well maintained Ford Transit models.

For special requests or questions, please contact our office at 808-575-2317.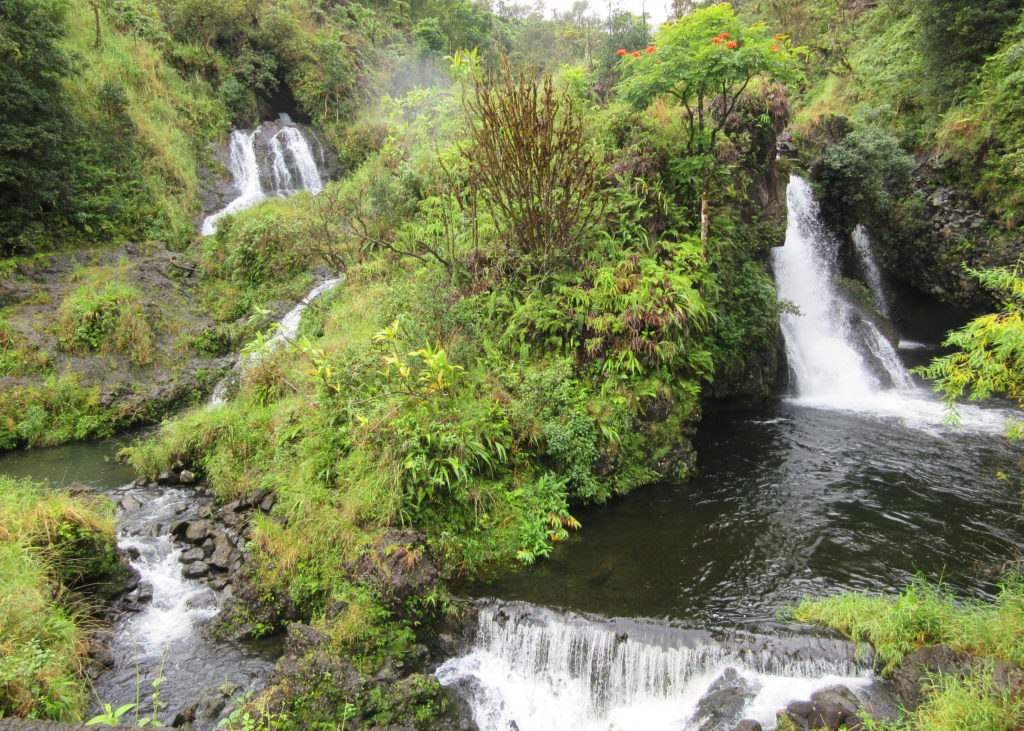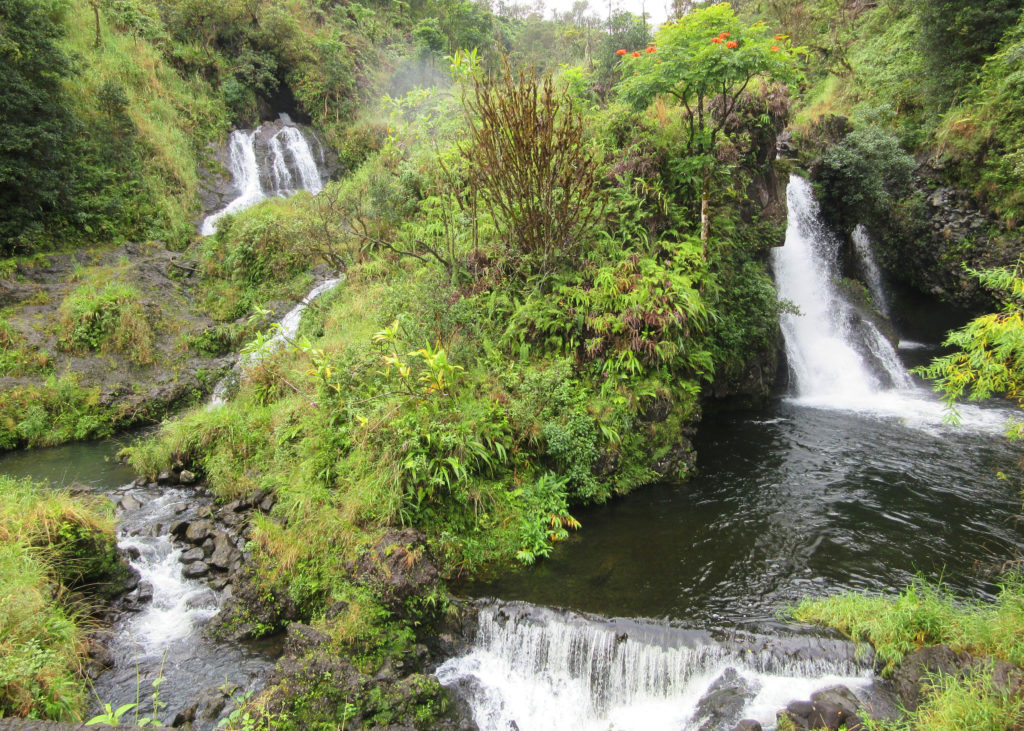 COVID Response Notices:
We currently do not require masks but encourage wearing them. We appreciate your understanding as we work together to keep safe!

Our tour vans are cleaned after every tour. 

Hand sanitizer is available in each tour van and rest stops are available throughout the day.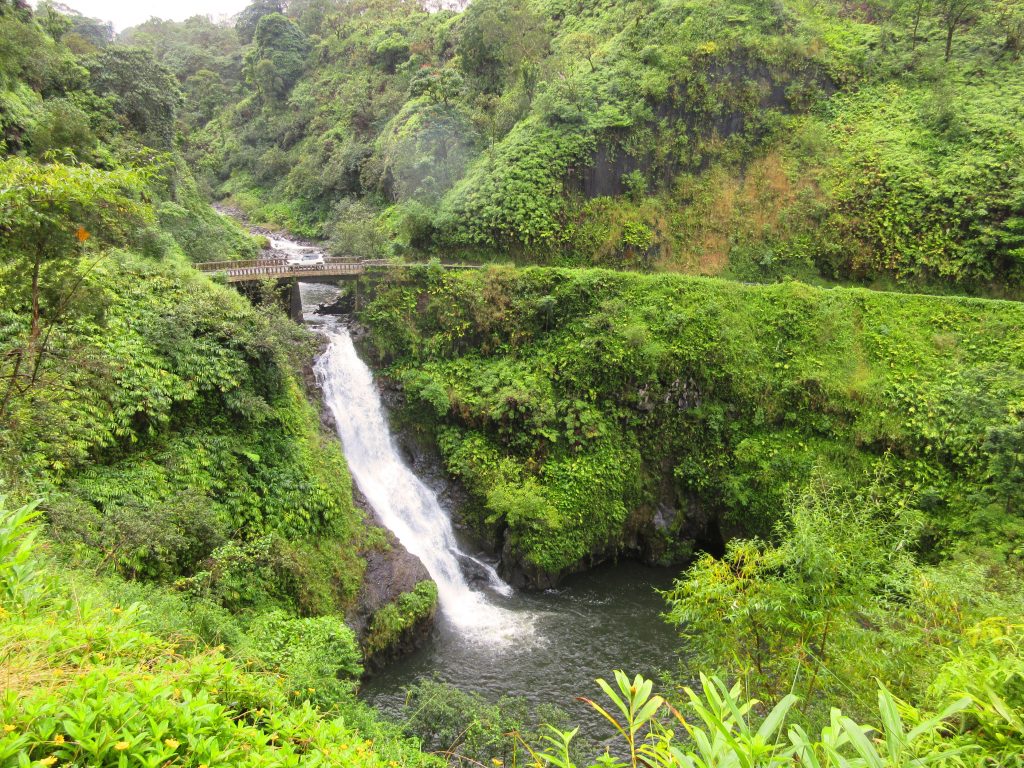 Don't just take our word for it. 
On Google, we're rated 4.9 / 5 Stars.
On TripAdvisor:
Hana Tours of Maui is rated 5 Stars
Hana Highway is rated 4.5 out of 5 Stars

Some Aloha from our Guests:
Positive:
 Professionalism,
 Quality,
 Responsiveness,
 Value
Sean was our tour guide and we had an amazing time. Sean was professional, informative, a great driver and conversational. The road to Hana would be hard to drive by yourself and the driver wouldn't get the same experience. Sean had knowledge of the whole tour that we wouldn't have known driving ourselves. The food and drinks provided were very good. Sean made sure everyone in our van was taken care of and made for a great experience. Can't say enough how much fun we had and would highly recommend this guide. Recommend trying the banana bread when you stop. Driving yourself would save lots of money but my wife and I felt it was worth getting a guide for.
Pong was an amazing tour guide. Legendary to be exact. Made all feel very comfortable, was very respectful and very knowledgeable of the Hawaii culture and land.
Visited in 2022:
Jeff was our driver and he was great! My husband and I had so much fun. Jeff took us to so many cool spots and he knew a lot of history about Hawaii! Great tour & tour guide.
Visited in 2021:
Outstanding in every way! Worth every penny. Fun, extremely informative, and the best way to enjoy this long & challenging trip with a small group. Our driver, Andre (or Maui) truly loved sharing his home land with us. Excellent, experienced driver, customized the trip to our group. Well prepared and equipped.
My mom and I were VERY glad we did not drive this road ourselves. Our driver, Mike, was AMAZING! He knew so much about the sights we were seeing, shared amazing memories, took care of us, and engaged in amazing conversation. He was the most down-to-earth person we met on our trip. He was an amazing driver, and made sure our trip was excellent. The road to Hana is a must go and see with a tour guide! You are so much more immersed and safer because car rental companies void your insurance if you damage the car on this road! You will see spots that you will not know about if you drive yourself! This is a long trek, we drove the whole way, bring extra snacks (the breakfast/lunch is great by the way), and water! For what we paid, we got what we asked for, if not more. Amazing experience that I will never forget.Mahalo Mike and family!
FABULOUS DAY! And it is all day!
The guide picked us up at 7:30 in the morning and returned us at 7:30 in the evening. We saw everything that there was to see on the Road to Hana. The guide was knowledgeable about Maui, the Road to Hana and knew all of the right places to stop. We had a small breakfast, a stop at noon for a snack and lunch around 3 pm.
The stops were incredible. Two places were waterfalls alongside the road where you could swim if you were comfortable, the Black Stone Beach, Charles LIndbergh's grave, and a great spot in the desert/sheep area.
We swam in the ocean and enjoyed wonderful views while the tour guide drove through the scary curves and told great stories about the area.
Very worth the money and the time. Highly recommended!
Rich was an amazing tour guide. My husband and I realized that if we hadn't taken this tour, we would have missed authentic Maui. We learned so much about the jungle, its vegetation and wildlife, along with the history of the island. Rich was well informed and kept our interest all day. We loved the many stops along the way, and this tour company does not turn back at Hana, so we were able to continue on the road to see the other part of the island. If we had been with a tour company that turns around at Hana, we would have missed so much. The trip was wonderful and worth the long day. We would recommend the Hana Tours of Maui Company to everyone visiting Maui! They take good care of the people on the tour. This trip was a high point in our Maui visit, and one of our best memories.