Dream, plan, and explore!
Let us take the wheel, as you take in the view!
Hana Tours of Maui has several tour options for you to choose from. But first, let's talk about some of the things that come standard on all of our tours:
Curbside pickup. – No rental car? No problem, we pick you up and drop you off.
Small groups
Guided tour
Water bottles
Umbrellas available 
Swim time available at a black sand beach in the ocean. At another tropical tour stop, take a dip in a freshwater pool next to a waterfall.
Read our descriptions below to find the best tour for you!
What to bring:
Face mask
Camera
Phone and charger
Sunglasses
Sunscreen
Cash for spending and gratuity
If you're hoping to swim, bring:
Beach towel
Swimsuit
Water shoes
Final notes:
There are many curves along the coastal route of our tours. If you get motion sickness, beware and prepare!

Most people don't have a problem but there are over the counter medicines to help prevent this. 

Wear shoes able to handle uneven terrain.
Comfortable quick dry clothes can prove ideal.

Tropical climate is mild year-round but be prepared for warm, possibly wet, and possibly windy conditions.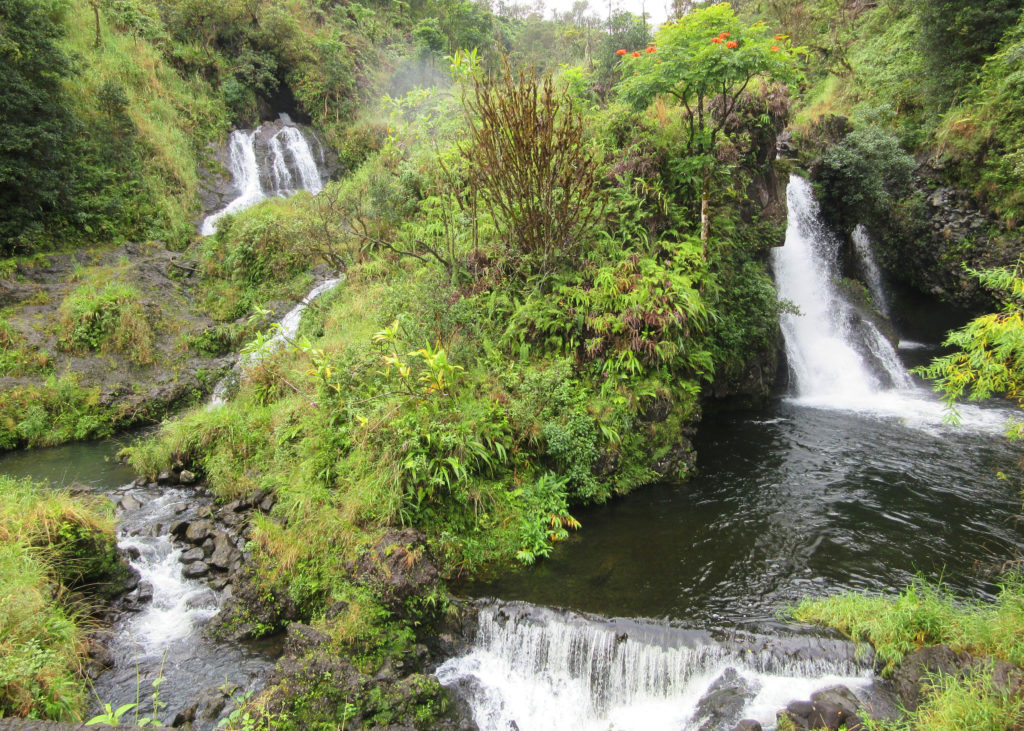 Hana Highway Express Tour
Shorter day tour along historic Hana highway. Enjoy magnificent views on the northside of the Haleakala volcano.
Swim by a waterfall in the lush rainforest!
Best option if you need to make it back in time for a luau. 
Deluxe Hana Tour 
Full day tour circling around the Haleakala volcano.
Swim by a waterfall, AND spend time at a black sand beach in Hana. 
Full lunch provided. Choose from 3 options and customize based on your food preferences. 
Private Deluxe Hana Tour 
Reserve our van(s) and tour guide(s) for the day! Let us know what you want and we'll work together to make your custom trip truly special. 
Full day, guided, private tour as you circle around the Haleakala volcano. Or not! That's the beauty of having the van booked out, you can be flexible with a private tour. 
Full lunch included. Choose from 3 options and customize based on your food preferences. 
Have you thought of a cave tour in Hana? Perhaps a walk through tropical gardens? 
Please let us know of any special requests and/or stops you are interested in. 
Offers the most flexibility with time and where you can go.

A private tour is a great option if you need to get back in time for a dinner reservation. 
Additional Questions:
What are your current mask requirements?
Masks must be worn when in the van. Masks may be removed for eating, drinking, swimming, and when outdoors if social distancing is possible. Children under the age of 5 are not required to wear a mask. 
What is your refund policy?
Full refunds will be given for tours cancelled by the operator and for tours cancelled by guests due to medical reasons (please provide us with a medical note). Otherwise, you have up to 48 hours prior to your scheduled pick up time to cancel and still get a full refund. Private tours require 1 week notice for a cancellation with a full refund. Private tour cancellations less than a week from the scheduled pick up may receive partial refund. 
Still have a question?
Please text or call us at 1(808)575-2317 and we'd love to chat.