Deluxe Hana Tour, Road to Hana tour around the Haleakala Volcano:
Enjoy the care-free feeling of having the details covered. Travel in comfort with our tour, as we provide a relaxing adventure around the Haleakala volcano. We aim to drive the north and southern route for the deluxe tour but access to the southern route is not guaranteed but either way, you'll enjoy a full tour experience. 
Door to door service across most of south, west, and central Maui.

Drive through Paia Town and see our unique, north shore surf town.

See the surf of Maui's famous north shore and Ho'okipa Beach, a surfer's dream come true and one of the world's most renowned windsurfing destinations. 

Witness Kea'nae Peninsula's rugged, picturesque shoreline and stop for fresh banana bread – remember to bring spending money (cash).

See Upper Waikani Falls (3 Bears Waterfall)

Tour along coastal and historic Hana highway through a lush Hawaiian rainforest of Maui's eastern volcano, Haleakala. 

Stop for a chance to buy some fresh banana bread and other local treats.

Enjoy a waterfall stop in the rainforest. You'll have an opportunity to swim* here in the pool of Pua'a Ka'a Falls. 

Longest stop of your tour day: Wai'anapanapa State Park. Enjoy walking around and experiencing a black sand beach in Hana. Swim time available*, facilities are available. Reservations are currently required for entry to this park, reservation and price of entry are included in your ticket price.

Full lunch served in Hana. Enjoy the lush, heavenly views of Hana.

See the Pools of 'Ohe'o, the "7 sacred pools" as we tour over the Oheo bridge.

Relax, taking in countless waterfalls as your driver expertly navigates the hundreds of curves and nearly 60 one lane bridges along this unforgettable journey.

If the southern route is not available as a return option on your tour day, we will do a north side return. It will still be a full tour experience. You will experience the road to Hana from a new angle, and gain new insights on the return route.  

If we are able to access the southern route: Cruise around the south-side of Haleakala to enjoy expansive coastal views, the windswept mountain slopes, and "Maui's Grand Canyon."

Catch sight of the Pokowai Sea Arch

Drive through scenic Keokea and Upcountry Kula 

Around 5pm, we aim to have you back at your place on Maui, variable due to traffic, weather, etc. Kindly remember to show appreciation to your tour guide with gratuity.

 

Order of stops is subject to change and we'll do our best to show you what we can, weather permitting.

*Swim time is weather permitting. Swim at your own discretion, our guides are not lifeguards.
Amenities provided: full lunch, water bottles, umbrellas, and a full day guided tour with guest pick up. 
Wondering what you should bring? A camera, phone charger, sunscreen, sunglasses, cash for spending. F
ace mask, optional.
If you're planning on swimming, bring: your swimsuit, beach towel, water shoes, plastic bag to contain your wet stuff, and a dry change of clothes.

BOOK NOW
Book with confidence. Our ecotours are an incredible experience and we take pride in providing an exceptional tour around Maui. Book today to reserve your seat and if you need to cancel your reservation with >48 hours notice, you'll receive a full refund. For private tours, we ask for a week notice in the event of a cancellation. Cancellations due to medical emergencies or by Hana Tours of Maui will result in a full refund as well. Reserve your seat today and enjoy a tour with the details covered. 
Enjoy the view with Hana Tours of Maui:
Historic Hana Highway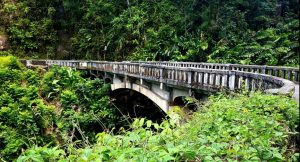 On our tour, enjoy learning about the history of this beautiful route. See the historic bridges and relax knowing your tour guide can expertly navigate these one lane areas and the hundreds of curves. 
Keanae Peninsula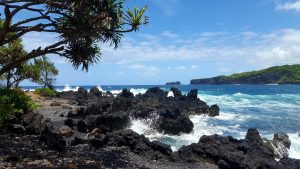 Keanae is a well preserved favorite for many of Hana Highways travellers. The peninsula features a church built in 1860, taro fields, and a volcanic coastline that makes for some of the best photo opportunities available.
Waterfalls Abound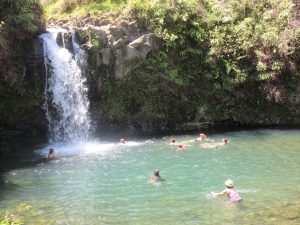 Countless waterfalls can be seen along Hana Highway. Swim time is available for you to enjoy a freshwater pool of a waterfall on the Haleakala volcano, Pua'a Ka'a. Break away from the resort and enjoy a dip in the rainforest with lush, incredible views.
Wai'anapanapa State Park & Black Sand Beach*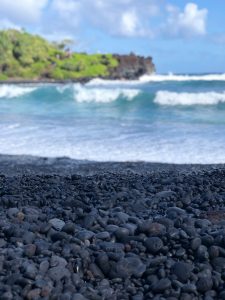 Sacred to the Hawaiians and a visitor's paradise, Wai'anapanapa State Park features a volcanic black sand beach, Honokalani. Walk along the jet black shore, lined with wind twisted foliage, take in the exciting site of a lava cave. Swim time and facilities are available at this location.
Heavenly Hana*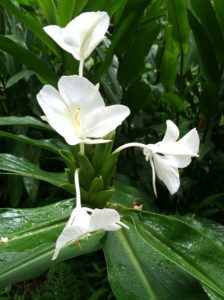 Hana awaits as one of our destinations where you will encounter a step into the not so distand past, where life can move a little slower and with good reason. The local custom is to greet aloha with aloha, and with this important exchange, we enjoy a rich quality of life!
Surprising Southern Slopes of Haleakala*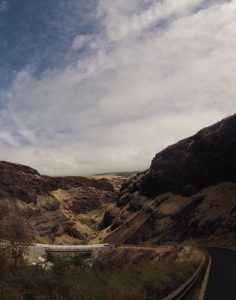 The breathtaking coastal views of Maui's southern slopes are a memorable experience. Be surprised by "Maui's Grand Canyon" and see other Hawaiian islands in the distance. Soak up the magnificent coastal beauty of Maui's natural scenery and we'll take you where rental cars are not allowed. Admittedly, the southern route is sometimes closed. If that's the case, you'll still get a full tour day.    
*Find the tour that fits what you're looking for: Wai'anapanapa State Park, Hana, and Southern Haleakala are features of our Deluxe Hana Tour. The southern route around Haleakala is dependent upon factors that are typically outside our control and is not guaranteed for each Deluxe Hana Tour. Regardless of the south side, our Hana Tour is still a full-day tour experience.

Express Tours do not feature Wai'anapanapa State Park, Hana, and Southern Haleakala. Express Tours feature north shore views along Hana highway, scenic Keanae Peninsula, a waterfall stop to possibly swim, and stop for guests to purchase lunch in the lush rainforest. Express Tours are available as a private tour option for guests who want a partial day experiencing the lush beauty of Maui's scenic Hana highway. Give us a call to reserve your adventure 1(808)575-2317.