Aloha & 

Welcome to Hana Tours of Maui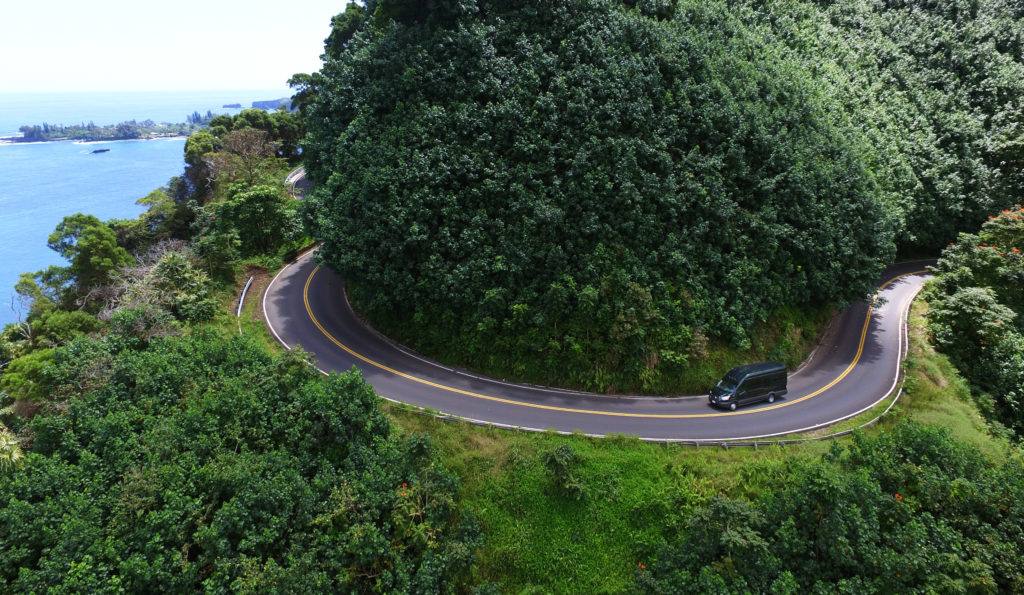 Bring your Ohana (family and friends) and enjoy one of our world's most scenic & captivating roads. Our Ohana will take you around Maui's eastern volcano to see breathtaking ocean and mountain views. Hana Highway features over 600 coastal turns and nearly 60 bridges, most are only one lane. Let our experienced guides take the wheel, while you enjoy a stress free tour along this historic road and around the Haleakala volcano.
BOOK NOW
A locally owned tour company, we specialize our tours on Maui. Take our ecotour along coastal Hana highway and into the lush rainforest of Maui's eastern volcano, Haleakala. Riding the road to Hana is not your typical highway experience. Know before you go! Enjoy door to door service in our custom comfort vans seating up to 14 guests each.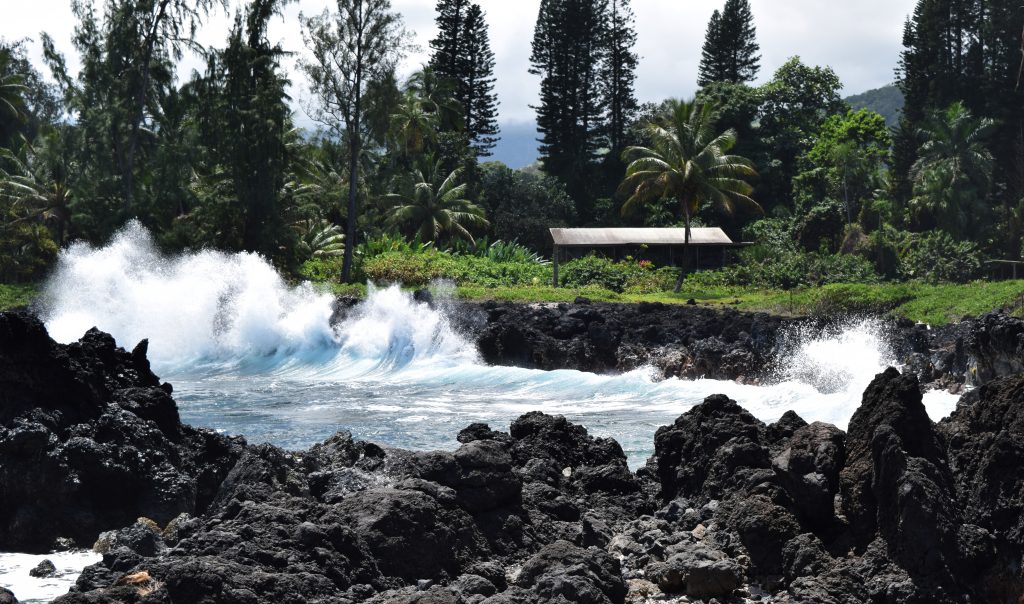 What's included? 
–Door to door service across Maui, including Kahului Harbor. 
-Stop in Paia Town. This is a great chance to grab a coffee in our unique, north shore surf town.
-Learn about the history of our Hawaiian cowboys and drive through upcountry Makawao town. 
-Cruise around the south-side of Haleakala to enjoy expansive coastal views and the windswept mountain slopes.
-Tour
along coastal and historic Hana highway through a
lush Hawaiian rainforest. 
-See the "7 sacred pools" as we
tour
over the Oheo bridge.
-Full lunch served in Hana. 
-Stop in Wai'anapanapa State Park. Enjoy walking around and experiencing the black sand beach. Swim time available*, facilities are available.
-Swim time* in the freshwater pool at the waterfalls of Pua'a Ka'a State Wayside Park, facilities are available.
-Witness Kea'nae Peninsula's rugged, picturesque shoreline and stop for fresh banana bread – remember to bring spending money (cash)!
-Relax, taking in countless waterfalls as your driver expertly navigates the hundreds of curves and nearly 60 one lane bridges along this unforgettable journey.
Order of stops is subject to change and we'll do our best to show you what we can, weather permitting.
*Swim time is weather permitting. Swim at your own discretion, our guides are not lifeguards.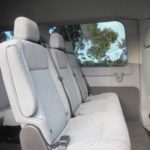 Wondering what you should bring? A face mask, spending money, camera, phone charger, sunscreen, and sunglasses. 
If you're planning on swimming, bring: your swimsuit, beach towel, water shoes, plastic bag to contain your wet stuff, and a dry change of clothes.
Amenities provided: full lunch, water bottles, umbrellas, and a full day guided tour with door to door service.
Enjoy the care-free feeling of having the details covered. Travel in comfort with our tour, as we provide a relaxing adventure around the Haleakala volcano.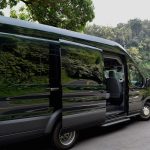 Highly qualified, knowledgeable, professional, and thoughtful guides.
Custom comfort vans seat up to 14 guests. Windows are oversized with privacy tint and UV protection. 
Room to stand as you walk though the van. Vans are well maintained Ford Transit models with high roofs.
COVID Response Notices:
MASK REQUIREMENTS: We require guests (ages 5+) and employees to wear face masks for the entirety of the tour and they may only be removed for eating/drinking/swimming. Masks may also be removed when outside if guests are 6 feet apart (per county rules). If a guest fails to comply with this, we reserve the right to refuse service, even if the tour has already commenced. We appreciate your understanding as we work together to keep safe!
Our tour vans are cleaned and sanitized after every tour. Throughout the tour day, we practice enhanced cleaning of high touch-point areas, hand sanitizer and hand washing stops are available for good hygiene. 
For special requests or questions, please contact our office at 808-575-2317.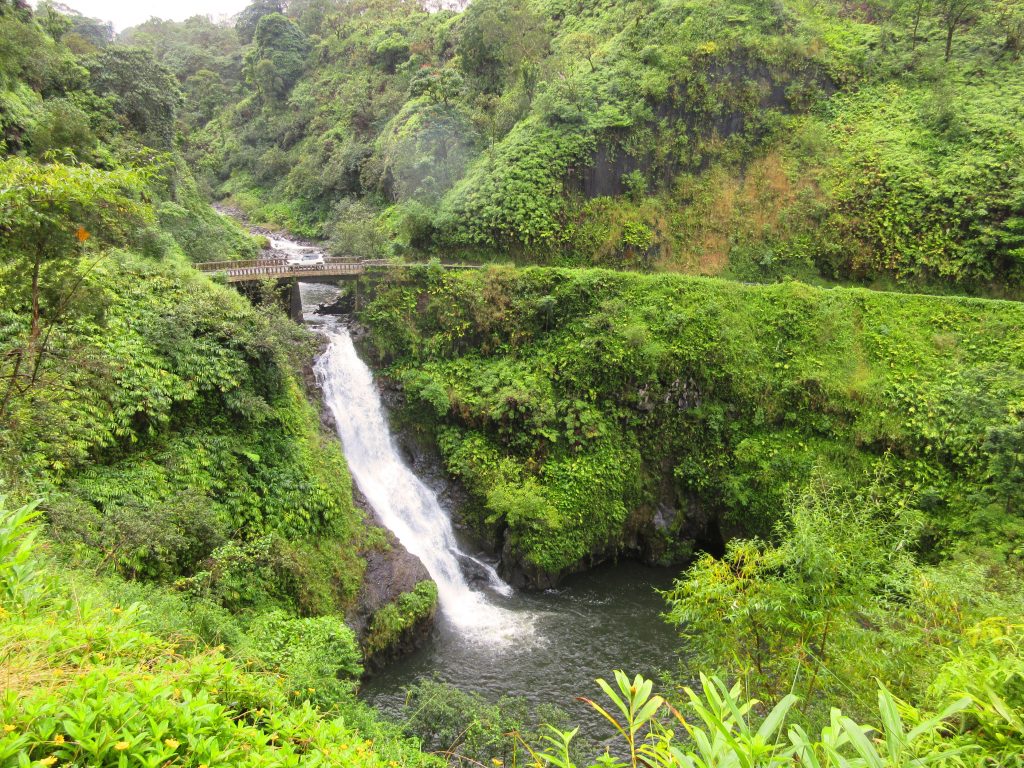 Don't just take our word for it. On TripAdvisor:
Hana Tours of Maui is rated 5 Stars
Hana Highway is rated 4.5 out of 5 Stars

My mom and I were VERY glad we did not drive this road ourselves. Our driver, Mike, was AMAZING! He knew so much about the sights we were seeing, shared amazing memories, took care of us, and engaged in amazing conversation. He was the most down-to-earth person we met on our trip. He was an amazing driver, and made sure our trip was excellent. The road to Hana is a must go and see with a tour guide! You are so much more immersed and safer because car rental companies void your insurance if you damage the car on this road! You will see spots that you will not know about if you drive yourself! This is a long trek, we drove the whole way, bring extra snacks (the breakfast/lunch is great by the way), and water! For what we paid, we got what we asked for, if not more. Amazing experience that I will never forget. Mahalo Mike and family!
FABULOUS DAY! And it is all day!
The guide picked us up at 7:30 in the morning and returned us at 7:30 in the evening. We saw everything that there was to see on the Road to Hana. The guide was knowledgeable about Maui, the Road to Hana and knew all of the right places to stop. We had a small breakfast, a stop at noon for a snack and lunch around 3 pm.
The stops were incredible. Two places were waterfalls alongside the road where you could swim if you were comfortable, the Black Stone Beach, Charles LIndbergh's grave, and a great spot in the desert/sheep area.
We swam in the ocean and enjoyed wonderful views while the tour guide drove through the scary curves and told great stories about the area.
Very worth the money and the time. Highly recommended!
Rich was an amazing tour guide. My husband and I realized that if we hadn't taken this tour, we would have missed authentic Maui. We learned so much about the jungle, its vegetation and wildlife, along with the history of the island. Rich was well informed and kept our interest all day. We loved the many stops along the way, and this tour company does not turn back at Hana, so we were able to continue on the road to see the other part of the island. If we had been with a tour company that turns around at Hana, we would have missed so much. The trip was wonderful and worth the long day. We would recommend the Hana Tours of Maui Company to everyone visiting Maui! They take good care of the people on the tour. This trip was a high point in our Maui visit, and one of our best memories.
We Care!
You can join too in helping our community by learning more about these amazing organizations and perhaps extending some help their way!  
Hawaii Public Radio "HPR is a service you can count on for timely news coverage, civil conversation and fact-based information. We're here for you too with art, ideas, good music and as a connection to the community." HPR.
East Maui Watershed Partnership "The overall mission of EMWP is to protect the Watershed from degradation by protecting native forests and their component native species as well as educating the local community about conservation and other issues relating to watershed protection." EMWP.